Design Translations represents a collection of artefacts, prototypes, toolkits, and technologies from research and design projects in the field of healthcare. This collection provides a window into the things that enable designers to communicate with interdisciplinary teams, bring together diverse stakeholders, and invite patients into the design process.
These design technologies — ranging from digitally fabricated prototypes to speculative provocations — play a critical role in enabling collaboration between design and medicine. Designed artefacts invite participation from patients, carers, healthcare professionals and users throughout the iterative research and design process. The artefacts act as boundary objects within research teams. They facilitate communication and collaboration between the different languages, jargon, and expertise of the complex teams found in interdisciplinary research.
The objects, sketches, diagrams and toolkits presented are meeting points between clinicians and patients; between designers and healthcare teams, between academia and industry. They communicate content from one language to another; from the technical to the emotional, from the lab to the bedside, from the intangible to the tangible.
Design Translations brings together examples of design practices that are creating future-focused technologies to improve people's lives. This exhibition shares the design process from significant health innovations such as the Genaris Bionic Eye designed by Health Collab for the Monash Vision Group, Facett modular hearing aid designed by Leah Heiss for Blamey Saunders hears, Lab4Livings HOSPITabLe, and AUT's 'The Little Ones' baby bath. These are presented alongside projects that are currently in progress, providing a window into design and development in action.
The works traverse a continuum between the playfully speculative and the commercial, bringing our attention to the powerful, and different, roles that design artefacts can play in coalescing interdisciplinary teams, furthering collaboration, and provoking debate at all stages of the design process. The crafted artefacts, images, and films in Design Translations take us into the design decision-making processes that contribute to the creation of these life-altering healthcare technologies.
Curated by Rowan Page (Monash University) & Leah Heiss (RMIT University)
Including work from Health Collab (Monash University), Lab4Living (Sheffield Hallam University), good health design (Auckland University of Technology), SensiLab (Monash University), Jayne Wallace (Northumbria University) and Leah Heiss (RMIT University) and their collaborators.
A selection of work exhibited as part of Design Translations at the MADA Gallery in December 2018.
Gennaris Bionic Eye
Monash University Health Collab in collaboration with Monash Vision Group, Alfred Health, Grey Innovation, Minifab
The headgear integrates MVG's wireless transmission technology, which captures, processes, and sends data to up to implants in the human visual cortex. MVG's technology hopes to be able to assist the majority of people who have total blindness to see simple visual information about the world. The design process has placed great emphasis on ergonomics, comfort, stability and adjustment to enable precise positioning over the implant site. The design aims to humanise complex technology, seeking a familiar aesthetic derived from headphones, glasses, and consumer wearable devices. Health Collab also sought input people with vision impairments helping to lead to a comfortable, usable, and expressive device.
Photos: Narelle Portanier

Facett
Leah Heiss (RMIT) in collaboration with Blamey Saunders Hears
Facett is the world's first self-fit modular hearing aid. Named for its crystalline appearance, Facett is Professor Peter Blamey and Dr Elaine Saunders' solution for those of the 4 million Australians with hearing loss who aren't using hearing aids because of stigma, cost, complexity or access. In order to distinguish Facett from traditional hearing aids designer Leah Heiss worked with the mineralogy collection at Museums Victoria to inspire form, texture and clustering of the modules. The crystalline form seeks to shift stigma, to move hearing aids from disability to desirability. Facett's intuitive magnetic connector bypasses the need to change tiny batteries, an ongoing frustration for older people with arthritic fingers or vision impairment. The hearing aid is divided into two components: the "core" is the brains and contains the user's settings while the "module" powers the core with its rechargeable battery.
Photos: Matt Harvey
Resonance Therapeutics
Monash University Health Collab in collaboration with Monash ITDF & Prof. Paul Fitzgerald
The Monash Facility for Instrumentation and Technology Development (ITDF), Prof.Paul Fitzgerald (MAPrc, Monash Psychiatry, Alfred Psychiatry) have designed a highly novel brain stimulation system for the treatment of a range of conditions, from depression to chronic pain. Health Collab became involved in the design and development of the wearable headgear to house the electronics in the device. The device has a number of characteristics that facilitate ease of use, exploring novel ways of seamlessly carrying out complex interactions. The goal was to create a comfortable, stable, and non-threating device suitable for use at home without the aid of a medical professional.
Experimental Interfaces
Monash University Health Collab
These artefacts provide a window into a larger practice-based Ph.D. study that interrogates how design methods contribute to improving medical device usability. This practice was informed by the existing human factors usability design methods promoted by regulators, while also investigating the benefits of augmenting these existing approaches with user experience and co-design methods. Integrating the voice of users alongside engineering driven development. The creation and discussion of speculative design probes (shown here), situated within co-design workshops, provided a way to enhance collaboration with medical device users. Providing a way to discuss potential usability issues with future devices, within the formative stages of development. This approach encouraged opportunities to challenge the conceptualization of how entire devices and interfaces are used; rather than just changes to labels, packaging, and training.
Photos: Narelle Portanier
Smart Heart
Leah Heiss, Keely Macarow and Paul Beckett with St. Vincent's Hospital
Smart Heart seeks to address the physical and emotional discomfort experienced by people who require regular electrocardiogram (ECG) monitoring. It is aimed at patients who have recently suffered a heart attack or who are experiencing heart rhythm problems and would typically be fitted with a Holter monitor or similar device. Smart Heart is focused on longer term monitoring in a non-invasive way and its aesthetic design is intentionally non-medical: composed of a soft textile neckband that integrates wiring and electrodes and jewel structures that conceal the central processing unit and battery power. Smart Heart was an interdisciplinary collaboration traversing design, engineering, weaving and health sciences. This project was funded by Gandel Philanthropy.
Photos: Narelle Portanier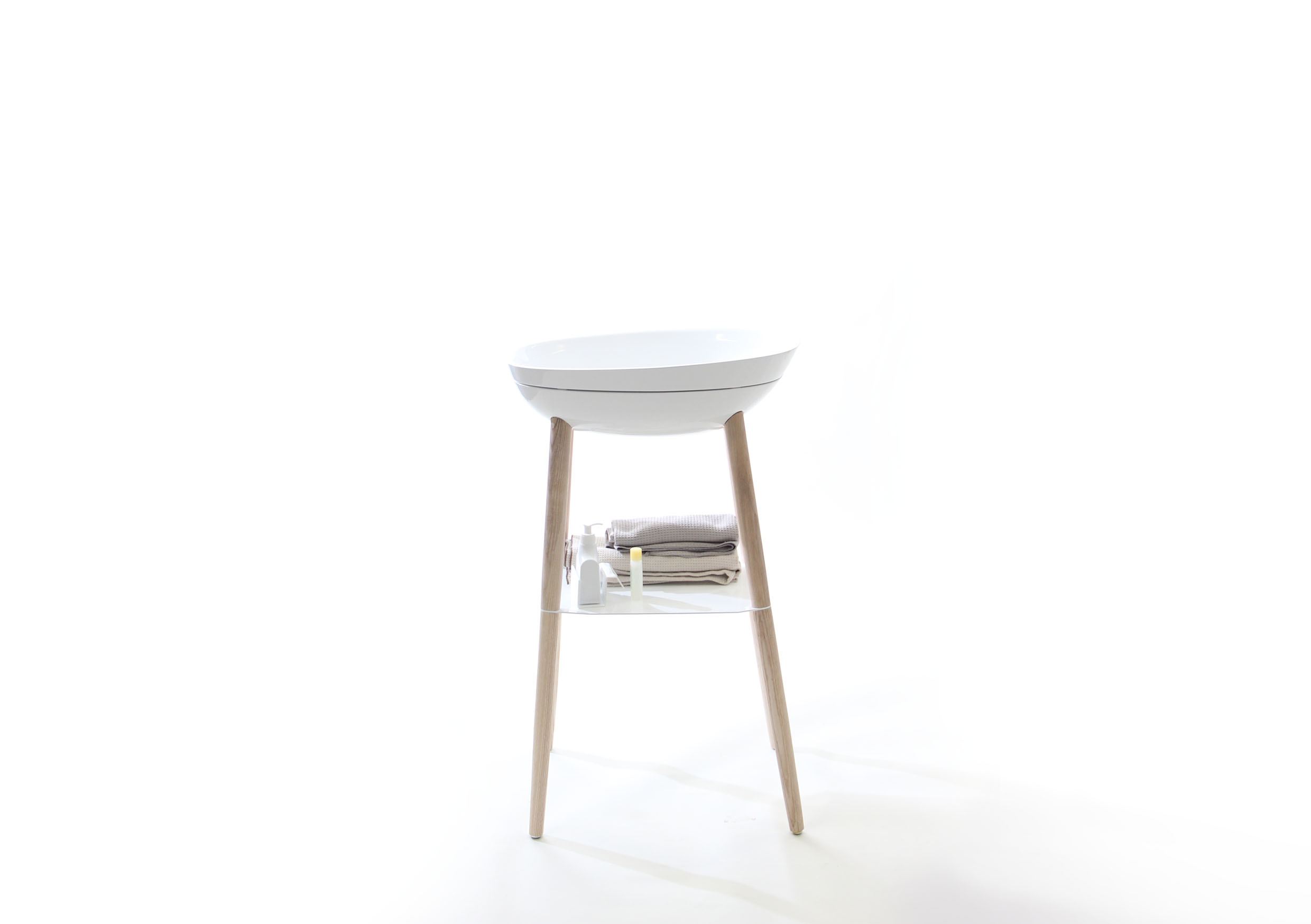 The Little Ones Baby Bath
Antonio Wan (good health design, AUT)
A baby bath designed in response to the emotional sensitivities of the Neonatal Intensive Care Unit (NICU). The key issues identified by NICU staff were water contamination issues, incorrect bath height, and a complicated and hazardous emptying and filling process. Further, none of these issues considered the experience for parents in a potentially frightening clinical environment. The birth of a premature baby can result in a period of emotional stress and trauma for parents as they watch the baby enveloped by the medical environment. Alongside resolving some of the technical issues, the baby bath helps to bring some resemblance of normality to the first 'experience' parents will share with their child.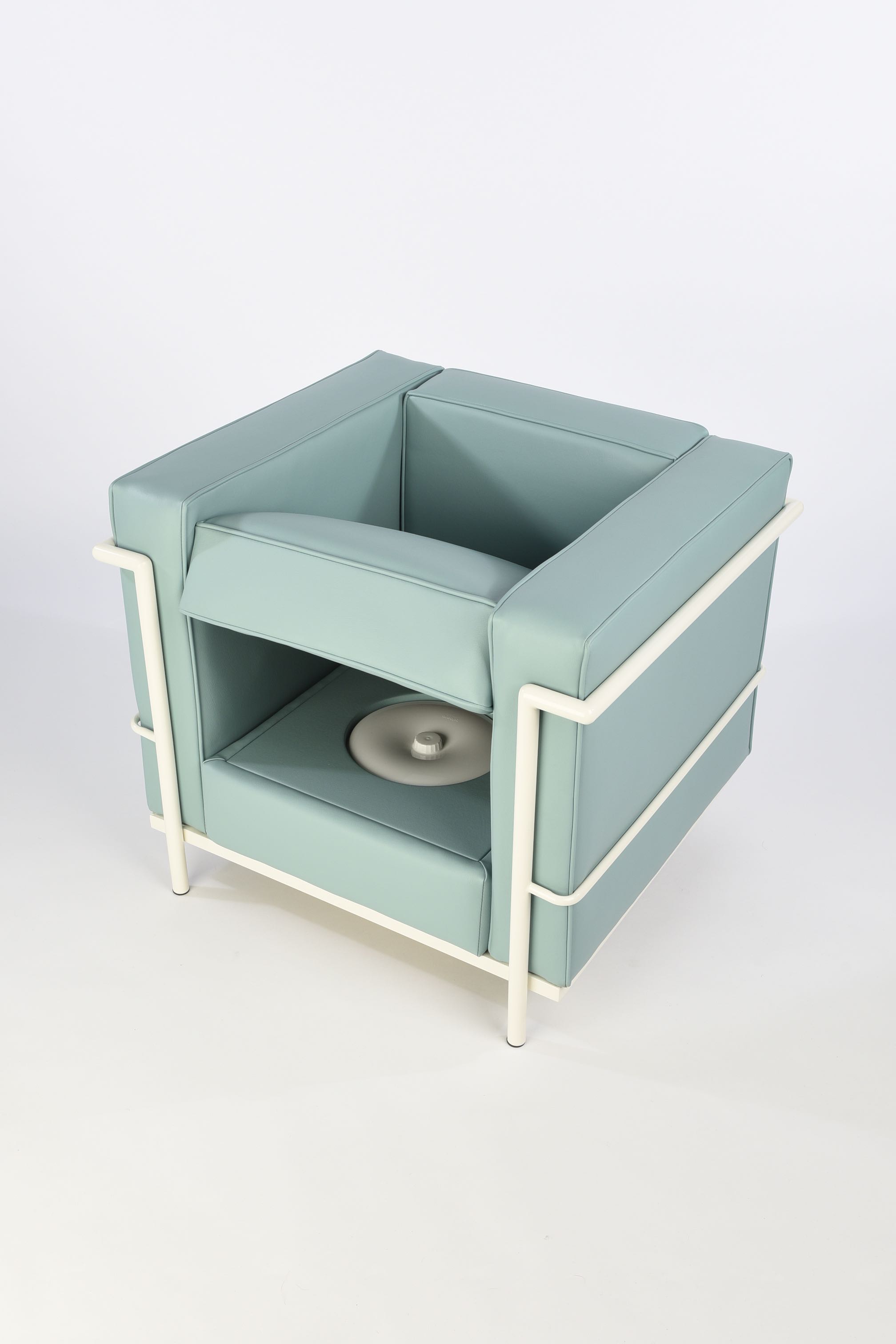 HOSPITAbLe
Paul Chamberlain (Lab4Living, Sheffield Hallam University)
HOSPITAbLe is a collection of artefacts that explores the implications of a shift of healthcare, from what has previously resided within the domain of the hospital, to the private space of the home. The home and the hospital bring together very different cultural practices and environments and the inexorable geographical shift in care has potential impact on our physical and emotional relationship with, and the symbolic meaning of home. These artefacts created by Paul Chamberlain reflect upon and challenges an ambiguous future domestic landscape. They are presented not as solutions, but as vehicles through which to engage people, promote discussion, to raise questions and challenge preconceptions.
Blueprints
Jayne Wallace (Northumbria University)
Blueprints are a series of fabric collages and also a method for translating physical properties of objects into digital materialities of media compilations. The variation in layerings, pattern, thicknesses, stitching and fraying each map onto directions for how the corresponding digital media is altered, composed and compiled. It is a creative, collaborative method of curating media in new ways. The project seeks to develop new ways to curate digital media to support ongoingness - working firstly with people who have a life limiting illness, secondly people living with an early stage of dementia and thirdly people who are bereaved.
Computational Costume 2.0
Domenico Mazza (SensiLab, Monash University)
Developed as part of a practice-based PhD research project by Domenico Mazza: the Computational Costume is a whole-body computing interface that is imagined in a speculative augmented reality. Physical wearable materials are used to convey what this future interface would look like and what it would do. We have imagined how medical records would be presented directly on people in professional practice and emergency situations. Allowing context-aware access to health professionals or first responders. Health seekers can use tokenised representations of their own records to add details and share access.
hi-d@meni.co https://do.meni.co
Photos: Narelle Portanier and Harriet Claire Tarbook
Tactile Tools
Leah Heiss (RMIT)
Tactile Tools are physical tiles that can be given meaning by participants and rearranged until their insights are coherent and useful. Leah Heiss designed the approach during her PhD research as a way to bring diverse disciplines to the table to work on complex design problems. Within Tactile Tools workshops participants prototype solutions to complex design problems like supporting communities through environmental transition, improving end-of-life experience, or delivering better cancer care. In Tactile Tools major project components (e.g. goals, roadblocks, work-arounds, empathy and stakeholders) are made explicit through embedding them in acrylic tiles that can be moved around the table. The Tactile Tools experience is scaffolded with personas, maps, user journeys and other materials in order to increase empathy between participants and the people at the end of the design process.
CaT Pin
Leah Heiss, Emma Luke, Paul Beckett, Glen Matthews (RMIT University) and Matiu Bush (Bolton Clarke)
The CaT Pin is a discreet, low-cost wearable to detect loneliness. In the form of a lapel pin or brooch, the CaT pin detects the presence or absence of conversation. It is founded on the premise that loneliness is manifest in a poverty of conversation, hence using the number of words spoken a day as a surrogate marker for social isolation and loneliness.The CaT pin records the number of words spoken per minute by the wearer and correlates this with a baseline figure for healthy interaction rates. When the wearer drops below a certain number of words per hour, or words per day, a text message will be sent to a loved one, volunteer phone service or health care worker. The form of the CaT Pin can be customised to the style and aesthetics of the wearer by imprinting its surface with cherished jewellery, medals or textiles. Thus the CaT Pin becomes a treasured possession that is also a mnemonic device, reflecting the wearer's personal identity.